Offering Some Great Early Bird Savings!
To everyone we're opening a stable soon in the Gore Mtn. area near Minerva, just call !
I would like to thank everyone for your support over all the years. Many of you are aware that I  work  with people of all ages with all types disabilities. With this past spring being so wet, making it another short season. And donating the amount rides I do, made it tough to save enough money to purchase two or more paraplegic saddles. This  year I want to work more with paraplegics, with veterans of coarse, but anyone who has difficulties sitting a horse without the  extra support a paraplegic saddle can offer.  5% of all long rides booked early will go towards helping purchase the paraplegic saddles.
At this time I'm offering some great deals on half day rides for 2014, I'm adding time to my half day rides, it may be closer to four hrs. You'll have a little extra time to have maybe  a grilled lunch, a longer time to relax at the beach, or spend more time riding your horse in the lake.  You might even add a lunch of grilled cabobs with several choices of shrimp, scallops, chicken, filet what ever you choose. With just a small extra charge to cover the food. Right now these prices are good through 12/15. Shirts can also have a picture of you or one of your children on a horse.  A picture you liked from one I might have taken or your own photos' can be imprinted on a shirt, might be a nice thought for a Christmas gift for anyone.
(2) Half day rides – $180 ($90 savings)
(4) Half day rides – $275 – ( a $245 savings) rides can be used as you choose, split up as individual presents, whatever you want do, they come as four individual gift certificates, please call with any questions ! I will also set up a payment program with some customers with a 50% dep.

The purchase of each of the double rides sold will include two long sleeve cotton shirts with a couple of different logos to choose from. And if you would like to buy a shirt for 17.50 the profit of the shirt  will go towards the purchase of saddles for paraplegics  for  vets, cancer patients, M.S.  anyone who has a hard time with their ability to keep their balance, and would enjoy  riding a horse through the Adirondack wilderness.
I am also looking to raise money to purchase saddles for paraplegics so those with more serious disabilities can enjoy a ride. 5% of the income raised through the half day ride deals will go towards the saddles.  Any donations someone makes towards the saddles would also be welcomed.  The many Veterans I spoke with that rode  this year stated how much working with paraplegic vets could  help them and with these saddles it would allow them to experience that ride on a horse,  some without having to have spotters on either side of the horse.
I have some news for  all the  people who have rode and supported us all these years. Coming into 2014 makes it 30 years I have been running Adirondack Saddle Tours and 26 years of working with people with disabilities.  I've tried for several years to take a few horses to Sarasota, Fl in the winter to be able to work with adults and children with disabilities. Hopefully by mid February I may have three horses in that area, they have opened certain parts of the beaches in the Sarasota Bradenton area.  Also not far from Sarasota is Myakka State Park, it's one of the States  larger bird sanctuary's on the west coast of Florida and they have a lot of new facilities for horses with 14 miles of maintained horse trails  .
I want military vets active or not to know we will do whatever necessary for them to enjoy a ride.  I offer more  discounts for vets and there family's, and I will do my best to work with anyone with special needs.
Some big news is this year we will be opening a stable in the North Creek area which is  about 15 minutes from Gore Mountain Ski area.  A good friend Colin Maury's Farm is near the town of Minerva and his friend Andy Archambeau, will be helping him.  These  horsemen will insure that you have a safe and wonderful experience.  They have some beautiful areas to ride and if you are in the area or are going to be up to Gore ski area why not also enjoy an hour or so horseback ride.  The woods are so beautiful this time of year with the snow hanging on the pines and the silence and solitude like no other.  This kind of peace is hard to find anywhere.  The Adirondack wilderness is one of the most beautiful places in the world and you are able to see so much more of it from the back of a fine horse making it that much more enjoyable.
The holidays are approaching and I am offering some great deals on gift certificates offering at more than a 30% discount  including the long sleeve shirts shown above on the purchase of two rides. On the purchase of four rides without shirts it's close to a 50 % savings or you can purchase the shirts directly and all the profit goes to helping us purchase the paraplegic saddles. I'm donating 5% of all income towards the purchase of saddle for paraplegics. Happy and safe Holidays to all ! Thanks again for every ones support this year ! John Evans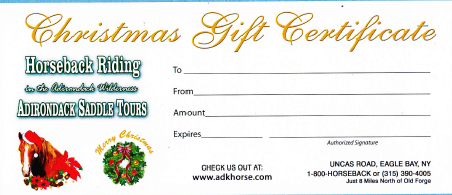 ________________________________________________________________________
I have a wonderful group of horses and guides that are both very patient. We will work hard to make sure you feel comfortable stopping, turning, and feeling confident of controlling your horse before we leave the yard.
If you are someone that may be a bit timid or younger, we will put a lead on your horse to be sure you feel safe. To see some of our recent rides take a look at our Facebook link below with our more recent guests.
A horseback ride through the Adirondack wilderness is one of the most beautiful and relaxing ways to spend a day with friends and family.
We have all you need to enjoy a peaceful ride on Horseback in the Adirondack Mountains. We have several ride packages including:
1 Hour
2 1/2 Hour
3 1/2 Hour
And More…
Pack a lunch for a half day ride to a beautiful wilderness lake accessible only by hiking or horseback, where you will have an experience that will last a lifetime. You will truly know why our clients return time and time again and say such wonderful things about their experience.
Click here for our facebook page which features some of our recent rides and comments.
(Please Load Your Pictures and comment!)
HORSEBACK  RIDING IN THE ADIRONDACK WILDERNESS,   YOU SEE SO MUCH  MORE OF THE BEAUTY OF THE FOREST FROM THE BACK OF A HORSE ! NO EXPERIENCE NEEDED.  ALL AGES ARE WELCOME! !
WE HAVE A NEW LARGER DECK MAKING IT MUCH EASIER AND SAFER TO GET EVERYONE  ON A HORSE, ESPECIALLY FROM A WALKER OR WHEEL CHAIR ONTO A HORSE, WE'VE HAVE ALSO ADDED  NEW DECKS AND DRIVEWAY MIX ON THE HILL'S WE RIDE TO MAKE THEM EVEN  SAFER !

A Special Note to our friends!                       
"We will work with anyone at any age with special needs, and discounts for military personnel, and if someone is involved with any programs working with soldiers with disabilities or injuries please contact me at: adkhorse@gmail.com.  
You might give some thought to spending an afternoon at a wilderness lake with friends of mine that were wounded serving our country in Vietnam. They are very close friends of mine and good, caring people that have been there. Just  give it some thought and let us know if we can help."  
"A Special thanks to those that have served our country"
I appreciate all you have done, John Evans
Affordable Rides for anyone with special needs , please give us a call, we will work with you,  it's our pleasure. just give us a call
 
Adirondack Saddle Tours has been working with horses for almost 30 years and we offer some of the best riding in the northeast.  Our main goal is to give you a safe and enjoyable experience. We keep our horses year round and like to fit the personality of the horse with the rider and their experience level. We offer many different rides from 1 hour to 5 1/2 hours , by choosing any length ride you wish. No experience needed. On the longer rides we can stop at a wilderness lake for a snack or on longer rides we can go all out and BBQ! Let us show you a memorable time on horseback in the beautiful Adirondack Mountains And please don't hesitate to contact us with any kind of disabilities. It would be our pleasure to have everyone enjoy a horseback ride in the beautiful Adirondack wilderness.


Be sure to check out our photos page.




 
 

 Adirondack Saddle Tours

John J. Evans

 1-315-390-4005

    WE ARE LOCATED IN EAGLE BAY, 10 MILES NORTH  OF OF OLD FORGE. WERE LOCATED AT 4 UNCAS RD, JUST 1/4 MILE OFF OF RT 28, UNCAS RD IS ON THE LEFT, JUST 1/2 MILE NORTH OF THE TURN FOR BIG MOOSE RD


                   

Adirondack Saddle Tour Gift Certificates are a great idea for any occasion!
Order Yours Today!