Since 1984, we have been taking people through the Adirondack Wilderness by horseback. It is an amazing experience for both adults and children. Any or no experience required! We will give a brief lesson to every rider! Safety is our #1 priority!
      We also want people to know that we have worked with veterans and continue to everyday. We have shirts for sale and part of the profits will go towards the purchase of paraplegic saddles. We are a proud member of the "Paralyzed Veterans of America" and these saddles can also help anyone with problems using their lower body. We are happy to give everyone a chance to see the Adirondack wilderness from the back of a horse. We would be more than happy to help you find a hotel or cabin that is local. There are also many other activities available in the surrounding areas such as; kayaking, whitewater rafting, hiking, golf, seaplane rides, the great "Adirondack Museum"  etc. Please call "315-390-4005", with any questions. If you are in New York's  surrounding states please call  "1-800-HORSEBACK" For more information on Veteran pricing and gift cards keep scrolling!
    We have all you need to enjoy a peaceful ride on Horseback in the Adirondack Mountains. Here are some of our packages:  SPECIAL FALL WEEKDAY PRICING!!
Weekends From Labor Day thru Snowfall
3.5 hour- $140
2.5 hour-$95
1 Hour- $45
Weekdays From Labor Day thru Snowfall
3.5 hour- $120
2.5 hour- $90
1 hour- $40
Regular IN-Season Pricing
1 hour-$45
2 and a half hour-$95
3 and a half hour-$140
4 and a half hour-$175
5 and a half hour-$195
SPECIAL PRICES FOR ACTIVE AND NON-ACTIVE DUTY MILITARY!!
   1 hour- $35
   2.5 hour- $75
   3.5 hour- $90
    Please call me I am more than happy to work with you, please let me know if you're dealing with PTSD or any disability. If you would like I have friends that are Veterans that would love to come along on a half day ride to a wilderness lake. ALL CALLS ARE CONFIDENTIAL.

Now Offering!! 
 New shirts with my logo and "Support Your Veterans", at $20.00 shirt, profits from the shirts will be going towards the purchase of paraplegic saddles.
I would like to thank everyone for your support over all these years. Many of you are aware that I work with people of all ages with all types disabilities. With this past spring being so wet, making it another short season. It has made it tough to save enough money to purchase two or more paraplegic saddles. This  year I want to work more with paraplegics, with veterans of coarse, but anyone who has difficulties sitting on a horse without the  extra support a paraplegic saddle can offer.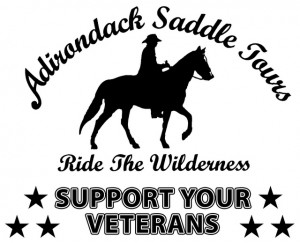 Any donations made towards these saddles are also be welcomed.  The Veterans I spoke with love the idea of giving other vets who have disabilities the chance to ride.
I also have some news for everyone who have supported us all these years. Coming into 2017 makes it over 30 years that I have been running Adirondack Saddle Tours and over 30 years of working with people with disabilities. I want military vets active or not to know we will do whatever necessary for them to enjoy a ride.
Gift certificates are available for purchase. They make great birthday and holiday gifts!
Please feel free to call and ask about them!
________________________________________________________________________
I have a wonderful group of horses and guides that are both very patient. We will work hard to make sure you feel comfortable stopping, turning, and feeling confident of controlling your horse before we leave the yard.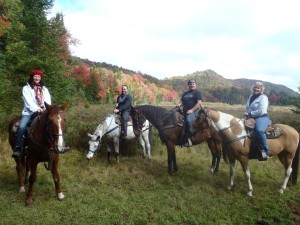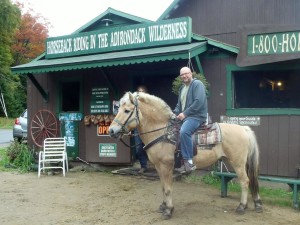 If you are someone that may be a bit timid or younger, we will put a lead on your horse to be sure you feel safe. To see some of our recent rides take a look at our Facebook link below with our more recent guests.
A horseback ride through the Adirondack wilderness is one of the most beautiful and relaxing ways to spend a day with friends and family!
Click here for our facebook page which features some of our recent rides and comments.
(Please Load Your Pictures and comment!)

WE HAVE A NEW LARGER DECK MAKING IT MUCH EASIER AND SAFER TO GET EVERYONE  ON A HORSE, ESPECIALLY FROM A WALKER OR WHEEL CHAIR ONTO A HORSE, WE'VE HAVE ALSO ADDED  NEW DECKS AND DRIVEWAY MIX ON THE HILL'S WE RIDE TO MAKE THEM EVEN  SAFER !

"You might give some thought to spending an afternoon at a wilderness lake with friends of mine that were wounded serving our country in Vietnam. They are very close friends of mine and good, caring people that have been there. Just  give it some thought and let us know if we can help".

"A Special thanks to those that have served our country"
I appreciate all you have done.
-John Evan